Chabot Space and Science Center 天文館夜宿

When:
04/06/2019 @ 5:00 pm – 04/07/2019 @ 9:00 am
2019-04-06T17:00:00-07:00
2019-04-07T09:00:00-07:00
Where:
Chabot Space & Science Center
10000 Skyline Blvd
Oakland, CA 94619
USA

Cost:
Scout: no charge, Adults: $80, siblings: $100
所有的童軍孩子不必再交錢,但是家裡其他成員則必須另外交費,成人:$80, 18歲以下兄弟姊妹或朋友: $100。最低年齡要求:五歲。

---
報名已經截止 Registration closed
---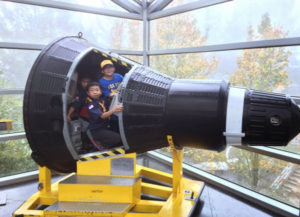 查看報名登記名單 View Registration List
每位參加的人,大人或孩子都必須填寫一張免責聲明
All participants need to submit a consent form:
免責聲明 Download Chabot Consent Form
活動時間:
Checkin time: 5pm – 7pm, 4/6/2019 (

dinner closes at 7:30pm

)
Checkout time: 9am, 4/7/2019
Meal: Dinner and breakfast are included (晚餐及早餐由天文台提供)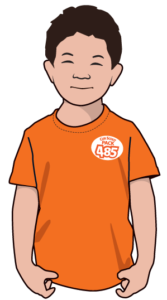 活動內容:
所有童軍請穿Class B制服 (orange t-shirt)
天文常識課程,各個小隊可以藉此機會完成手冊中規定的天文課程。
參觀天文館內的各種展覽
星象觀賞
紀念徽章
用天文望眼鏡觀看光年外的星座
THE ODYSSEY OVERNIGHT INCLUDES:
A comprehensive astronomy program which combines instructor led and self-directed experiences. Scout groups will be given a program that includes segments designed to meet the astronomy elective requirements.
Exhibit Exploration
Planetarium Shows
Complimentary Souvenir Patch
Telescope Viewing (weather permitting)
---
建議攜帶物品 What to bring :
Sleeping bag and pillow
Coat and warm clothes
Pajamas and night shoes
Toiletries (toothpaste, toothbrush, 
face wash, etc.)
Medication (if needed)
Water bottle
Blindfold or earplugs if needed
不要攜帶 What not to bring:
Electronics such as iPad, laptops
Heating devices
Alcohol, beverage
Valuable or noise generating toys and games
Shoes with wheels
Tent
---
---
Odyssey Parent Information Packet
For more information contact: Overnights@chabotspace.org, (510) 336-7329.
---
ABOUT CHABOT
Chabot Space & Science Center is a non-profit institution and community resource located on 13 trail-laced acres in Redwood Regional Park in Oakland amid the largest stand of coastal redwoods in the East Bay. Chabot features a 241-seat full dome planetarium, interactive and hands-on exhibits, space artifacts, a giant screen theater, a Challenger Learning Center, and the only research-level telescopes regularly available to the public for weekly live viewing in the Western United States.
Chabot's mission is to inspire and educate learners of all ages about the Universe and Planet Earth.
86,510 square-foot complex on 13 acres of parkland.
241-seat full dome Planetarium featuring Northern California's only Zeiss Universarium star projector that can illuminate 9000 stars and celestial objects as well as a digital sky projector.
Three observatory domes connected by an observatory deck – housing the Center's 8-inch (Leah, 1883) and 20-inch (Rachel, 1916) refracting telescopes, along with a 36-inch reflecting telescope (Nellie, 2003), which form the largest observatory complex free for public viewing in the Western United States.
32-person capacity Challenger Learning Center with mission control and spacecraft simulators.
Scenic outdoor amphitheater on a north-south axis, featuring the solar color clock, created by Roger Berry.
150,000 Center visitors annually.
50,000 students, pre-school through high school, visit annually from around the Bay Area.
986 classes/school groups visit on field trips.
Reaches 2,000 teachers annually through field trips, outreach, Dinner with a Scientist, Science Fairs, teacher professional development, and other activities.
Telescope Viewing every Friday and Saturday night, weather permitting.
More than 120 adults from across the Bay Area volunteer with Chabot and contribute 16,630 hours annually.